Kim English - Solo Exhibition
6/4/2021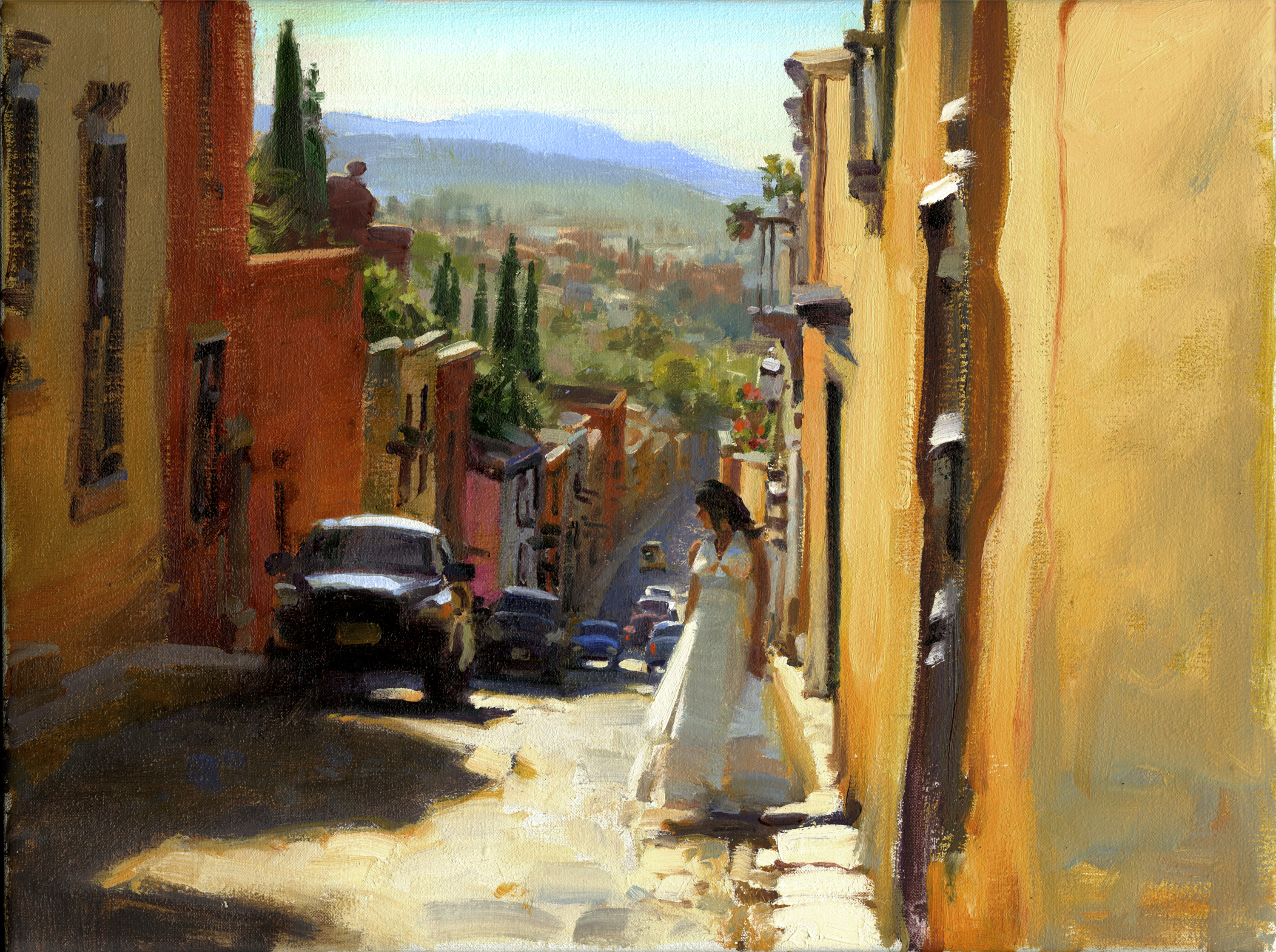 Kim English: Solo Exhibition
For his solo exhibition, Kim English presents a collection of more than ten new paintings that reflect the artist's signature use of light and shadow, alla prima painting technique, and gestural representational style. His paintings for this show capture fleeting moments from everyday life, whether it's a female figure leaning casually against an open doorway, a bar maid waiting for customers, or commuters rushing down a city street. English's paintings emphasize the beauty and intrigue that can be found withinour daily rituals.
English's love of travel fuels his inspiration, but with fewer excursions to places like Europe, Mexico, and the American West over the past year, the artist returned to his archives of photographs and sketches to create his latest body of work. His process always begins with photography or quick studies on site, which he later references in the studio to create a painting. Using the alla prima method or "wet on wet" painting technique, English typically completes a piece in a single session – sometimes even with a timer - rather than waiting to let the paint dry before adding another layer. This approach allows the artist to achieve rich texture and depth, while creating a sense of immediacy that brings the viewer directly into each painted moment. It also keeps English's style loose and gestural, as he creates a recognizable image from abstract arrangements of color and form.
Also included in this show are several landscape paintings, where English masterfully depicts the harmony that exists between light and shadow in nature. The artist uses a set palette across his body of work, linking his varied subject matter with a common mood.
Born in Omaha, Nebraska, English spent the majority of his life in Colorado, where heattended the Rocky Mountain School of Art in Denver. He now lives and works near Louisville, Kentucky, where he moved with his wife nearly four years ago. His work has been exhibited at the National Academy of Design, the NAWA 21st Annual Exhibition, Arts for the Parks, the Colorado Governor's Invitational at the Loveland Museum, the A.R. Mitchell Memorial Museum of Western Art, The Knickerbocker 42nd AnnualExhibition, and with the Oil Painters of America. He has shown with the Allied Artists ofAmerica and was awarded their Gold Medal of Honor. He has also won both the Certificate of Merit and the Joseph Hartley Memorial Award from the Salmagundi Club in New York. Meyer Gallery is proud to be his exclusive representation in the Southwest.